The last edition of the contest «Taza de Excelencia Perú – 2020» has a new winner: Hilda Leguía Gonzales. She lives in La Convención – Cusco Region.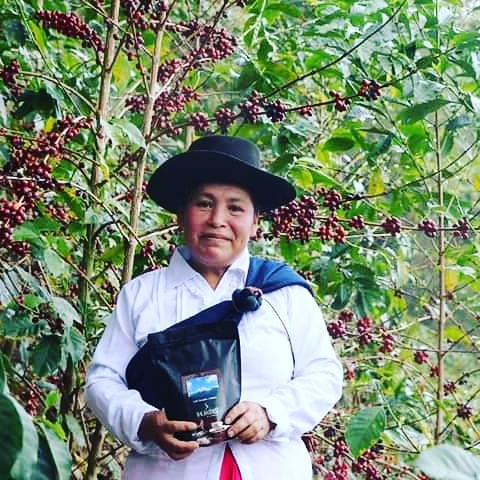 She's worked hard to win this edition of the contest that rewards the best specialty coffee all around Peru every year. It is about a Geisha coffee variety which is grown above 1848 masl. She got 90 points out of 100 and she's very happy about this prize. She has 4 children in total, one of them who is only 2 months old. She's told it was difficult for her doing the job in order to win the contest, since she was pregnant by the time she needed to go cultivating the precious coffee.
2nd place was taken by Edwar Toro Goicochea from the Cajamarca Region, with 89.58 points and third place went to Jhonner Jhasson Chingel Morales from the province of San Ignacio, Cajamarca, who obtained 88.96 points. The remaining seven coffees that occupy the top 10 of the best coffees of Peru are Fidel Huancas Huancas from San Ignacio, Cajamarca, with 88.92 points (fourth place), Norman Choque Ccuno from the province of Sandia, Puno, with 88.88 points (fifth place), Hernán Rodas Guerrero from Jaén, Cajamarca, with 88.77 points (sixth place), Gino Sadler Marín Ciriaco from the province of Oxapampa, Pasco, with 88. 77 points (seventh place), Eli Espinoza Soberón from Jaén, Cajamarca, with 88.73 points (eighth place), Valerio Almanza Ccahua from La Convención, Cusco, with 88.58 points (ninth place) and Dwight Aguilar Masias from the province of Santa Teresa, Cusco, with 88.58 points (tenth place) .
184 specialty coffee samples that were submitted to the national competition, 36 passed to the final stage and, in the context of COVID-19, were sent for final evaluation to eight laboratories located in Japan, China, South Korea, Australia, United States, England and Norway. From this selection, 24 obtained 87 points more and will go to the global electronic auction Cup of Excellence 2020, next December 3rd.
The peculiarity of this auction is that international buyers are participating in the bidding process and are looking for the best coffees in the world, which is why they usually offer high prices for them.
For example: the Cajamarca producer Juan Heredia Sanchez, winner of Cup of Excellence 2017, exceeded the price of US$10,000 per quintal (45.36 kilograms), managing to sell 328 kilos of green coffee for more than US$ 70 thousand. Hilda, this year's winner, tells that she has sent three sacks of green coffee, and for it she hopes to obtain a significant amount.
(Visited 89 times, 1 visits today)